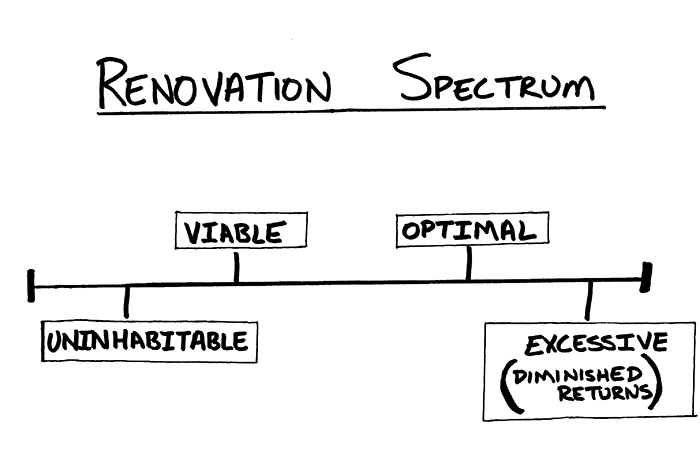 How to get your renovation right!
Here are five things you should always remember whether you're renovating for profit or love.
1.Have a clear strategy
Plan ahead and set yourself targets. A timeline that you review at least every few days is a great way to stay on track.
2.Don't forget about the Council
Getting council approval can take some time so it's best to get a start on it early. Requirements differ from council to council but you will have to complete a formal development application for the property and you will also have to put forward proposals and building plans.
After you've presented this to the council you have to wait for approval, so don't spend too much money and get ahead of yourself before being sure you can proceed as planned.
3.Be realistic about your budget
Overspending is a real concern for renovators and I'm not going to lie, it's easy to do, that's why a budget is vital in your renovation planning.
Make a list of all your needs & wants this should include everything from your door knobs to how much you are going to pay for your trades. It's always a good idea to have a buffer in your budget and it should be at least 10% of the total budget from my experience.
4.Take the lead and save
If you want to save a little bit of money you can be your own project manager, or have a go at completing some of the tasks yourself.
Project managing means you will be organising and co-ordinate all the tradies and make sure everything goes as planned. However, it's essential to be realistic about your skill level and the time you will be able to dedicate to the project, otherwise those savings will go out the unfinished window.
5.Compare
Whether you're just giving the lounge room a face lift with some paint, or kicking off a grand scale renovation, you should always compare quotes. Shop around and make sure you get the best and fairest deal.
Don't forget you are the boss so if you want to make sure you are hiring the best people for the job you can ask for referrals from previous clients or to have a look through the contractor's portfolio.
Good planning can be the difference between a positive renovation experience and a negative one. If you do it right, you'll be rewarded with an amazing home you love coming home to every day or a handsome profit on sale day!