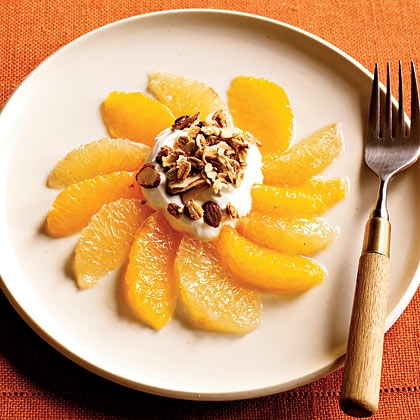 Morning Sundials
A delicious easy breakfast to set your family up for a fabulous day!
Ingredients
5 pink grapefruit
5 oranges
1  carton plain, fat-free Greek-style yogurt
1/4 cup low-fat granola
Preparation
Using a sharp knife, completely remove the outer skin and white pith of the grapefruit. Hold the grapefruit over a bowl, and cut out the sections, letting them fall into the bowl. Cut the orange sections into a separate bowl.
Select number of dessert plates, arrange 6 grapefruit sections and 6 orange sections in an alternating pattern around plate.
Spoon 1/4 cup yogurt onto the centre of each grapefruit-orange arrangement, and sprinkle each with 1/2 tablespoon granola. Serve.
Hint – although the recipe suggests Greek yogurt you can use any type your child likes.
Recipe courtesy of Health.com