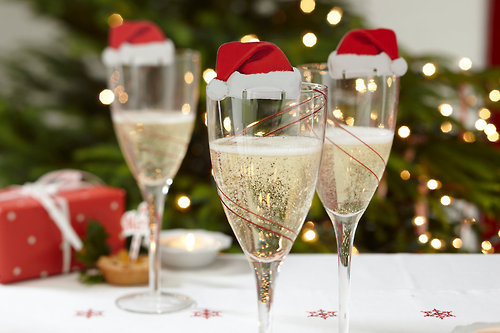 Tis The Season of Spontaneous Drop-In Guests – Quick & Easy Beverages that are sure to please!
3 Quick & Easy Champagne Cocktails
Strawberry Sorbet with Champagne
Hull and slice 250g punnet strawberries. Freeze slices between freezer wrap. Divide between six chilled champagne flute glasses.

Top each with chilled Champagne.

TIP: For a non-alcoholic version, top up with lemonade instead
Kir Royale
Pour 2 teaspoons blackcurrant cordial into the bases of six chilled champagne flutes.

Top with chilled  Champagne.
Champagne Side-Car
Place 20ml  Brandy, 20ml ALDI L'Esprit D'Orange, 20ml Lemon Juice and 15ml sugar syrup in a chilled champagne flute glass; stir gently.

Top with chilled  Champagne. Garnish with fruit slices.