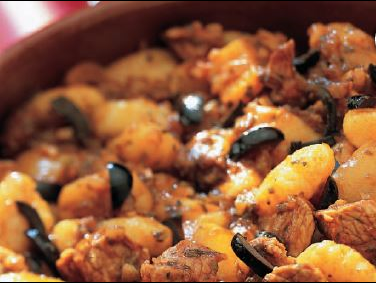 Gnocchi with Pork and Peppers
Gnocchi can be a quick, versatile and scrumptious dinner party dish or easy supper for the family. It's hard to resist a delicious gnocchi and this gnocchi with pork and peppers is no exception.
Ingredients
250g pork steak, cubed
4 cloves garlic, finely chopped
1tb dried oregano
1 lemon, juice
6tb extra virgin olive oil
salt & black pepper
2tb onion, finely chopped
1tb celery, finely chopped
3tb parsley, finely chopped
250g yellow peppers, cut into 2.5cm pieces
200mL passata
3tb beef stock
2 x 400g gnocchi packs
25g black olives, pitted and cut into strips
Method
Marinate the pork in half the garlic, oregano, lemon juice, 1 tablespoon of the olive oil and the season in the fridge for 1 hour.
In a large heavy-based pan, fry onion and a pinch of salt  until softened. Stir in remaining garlic, celery, parsley, and peppers and cook over a low heat for 10 minutes. Mix in passata and simmer for 10 minutes, stirring often. Add the pork, its marinade and the sock. Simmer, uncovered for 10 minutes or until the sauce has thickened and the pork has cooked, stirring occasionally.
Meanwhile, cook the gnocchi in plenty of boiling salted water until al dente. Drain and spoon over the sauce and toss, then scatter with olives.
Serves 4
SHELLEY AUFFRET REAL ESTATE
HOME, RECIPES AND SOLID GOLD COAST REAL ESTATE ADVICE!