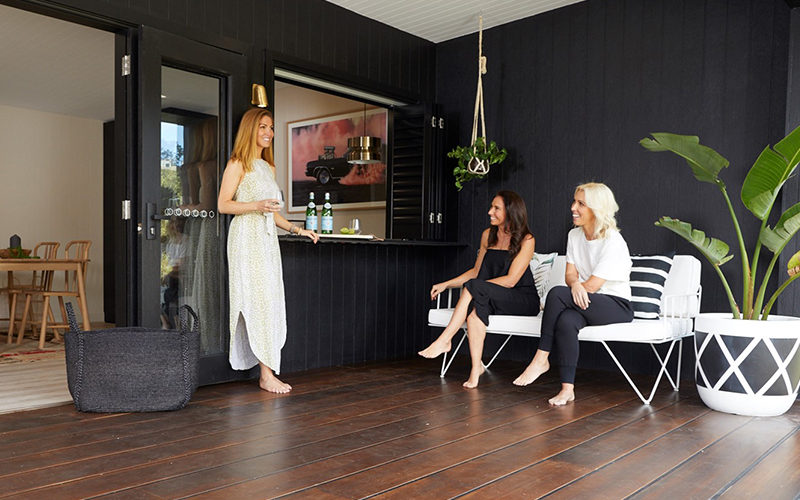 5 Things You Can Do To Take The Indoors OUT
We've all read a gazillion articles about how to bring the outdoors in, but what about taking the indoors OUT?
At first it sounds like the same concept, doesn't it? But upon closer inspection there are some differences. And with the entertaining season just around the corner, now is the time to get alfresco-ready.
So, without further ado, here are five things you can do to blur the lines between indoor and outdoor living.
1. Bring out all the soft stuff
Don't limit soft furnishings to your indoor spaces. Rugs, cushions and blankets look and feel great when used outside and nowadays you can get almost anything in an outdoor fabric. If your outdoor area is undercover it's even better as your soft stuff will be well protected.
2. Extend your kitchen bench outside
Gone are the days when your kitchen was restricted to inside the house. Our top tip? Extend this space by running your benchtop from inside to outside . This servery idea works best when you pair it with a large gas-strut window which can open right up, enabling great conversation (and wine) to flow between inside and out.
3. Use matching materials
Replicate materials you've used inside the house, outside. This could include running the same ceiling panels from inside to outside, or using the same wall cladding for an inside room in an outdoor deck. When used well (and if painted in the same colour) it can give the illusion that the internal room has continued on past the wall.
4. Feature blinds without windows
Blinds are often referred to as 'window coverings', but that doesn't mean you have to limit their use to windows. In the river shack reno we installed a motorised Luxaflex awning that enclosed the outdoor deck to make it feel like another inside room. The best bit about the fabric is that it's designed to give you privacy, cut down the glare and heat while still being totally see-through from the inside – absolutely ideal for the outdoors.
5. Think 'bigger is better'
If you want to take the indoors out, create the biggest opening you can to connect the two spaces. Bi-fold doors are perfect for this. Don't forget to ask your builder or installer to make the bi-fold track flush with the finished floor height so that you (and your guests) don't stub your toes as you move between the two zones… #ouch.
Article courtesy of Three Birds Renovation