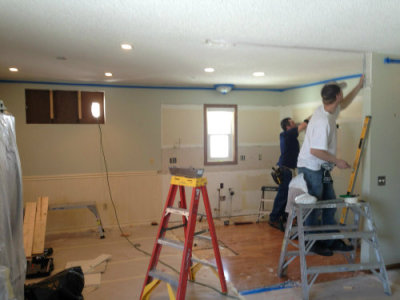 The perils of over-capitalising!
Australians love to renovate. Last financial year we spent $28 billion on refurbishments with this year set to increase according to the Housing Industry Association.
The problem is that not all renovations will translate into profit when you sell. Most people make their remodelling decisions based on lifestyle choices rather than also considering added value.
For example, a new bathroom will add value but do you really need that expensive vanity? The key is to understand local property values, your finance capacity limits and whether you can service them, as well as over-capitalising versus lifestyle desire.
Here are some suggestions from Shelley Auffret Real Estate on how to avoid over-capitalising.
Do the renovation yourself
This does not necessarily mean you will actually be wielding the hammer, rather project managing the job. You can get a builder to give you a quote for the whole job, or independently source the materials, plumber, electrician, tiler, painter, bricklayer or whoever else you need to complete the job. Whilst taking more time and effort, being an owner-builder can save you thousands on a job.
Just one important point, make sure you have the appropriate council approval and relevant insurance to cover the job.
Think with your head not your heart
As we've already mentioned, we know that you would like top of the range everything, but can you afford it and do you need it? Your property can easily become a huge money pit that you will never recoup if you're not careful. A check of property values in the area will give you an idea of whether you are over-capitalising or right on track.
How long do you intend to keep your property?
If you intend to keep the property for longer than five years, it's possible that capital gains will absorb the cost of your renovation. If you're aiming for a quicker turn around, then definitely avoid over-capitalising!